For your small or large events, we oer a wide variety of artisanal hors d'oeuvres prepared with the full creative power of our chefs.
Fish, meat, veggies and sweets: discover example of hors d'oeuvres below. Contact our advisors for a personalized quote!
Some fish and seafood hors d'œuvres
Beer battered cod fritters with squid ink
Scallop ceviche with yuzu, mango and mint puree
Dill cream and yellow caviar on smoked salmon cubes
Shrimp tempura with homemade BBQ sauce
Croustillant of lobster with sorrel
Oysters on the half shell, wakame, squid ink and purple basil
Salmon strips with pickled ginger, pepper and mint
Grilled octopus with tomato concasse and capers
Albacore tuna tataki with fennel and herb salad
Seared albacore tuna, Japanese mayo with red tobiko and roasted sesame
Some poultry hors d'œuvres
Grilled garlic chicken skewer, chili sauce
Nut-crusted chicken
Foie gras au torchon and homemade muesli, hibiscus infusion
Mini duck cont burger, balsamic-cilantro mayonnaise
Tea-marbled quail egg, fried shallots, red mayonnaise
Candied foie gras apple
Poultry presse, passion fruit and a gold leaf
Apple-smoked duck tatin
Some veggie Hors d'oeuvres
Vegetable macaroon, goat cheese and arugula
Pana cotta de chou-fleur et poudre de betterave sur sablé d'oka
Cucumber and tomato concasse with eur de sel
Veggie burger, goat cheese and arugula
Butternut squash cup with cinnamon, marinated beetroot and ginger
Asparagus tip creme brulee, dark chocolate, coee eur de sel
Grilled eggplant roll with seasonal vegetables
Vegetable tartare with cucumber, feta cheese, basil and chili oil
Bouchées fromages
Arancini, fresh mozzarella, sage, wild mushrooms and pumpkin
Reggiano ower crisp, caper cream and red tobiko
Goat cheese krosmeskies
Mac 'n cheese with panko and true oil infused milk
Mini Oka and pear grilled-cheese
Agnus Dei poutine
Some meat hors d'oeuvres
Soya braised beef, spicy spinach and marinated carrots
Lamp chop with Sambal oelek and ras el hanout
Beef let mignon and quail egg with soya
Mini medium rare beef burger, whiskey and onion jam and toppings
BBQ-glazed beef short ribs on creamy barley risotto
Smoked meat croustillant and pickled French gherkins
Oka shortbread and lamb let mignon on onion and blueberry cont
Beef tataki, wasabi and eur de sel mayonnaise
Some sweet hors d'œuvres
Ferrero Rocher style hazelnut brownie
Pistachio-strawberry dacquoise
Mini orange and balsamic dark chocolate square
Mini lemon dome
Vanilla Tonka bean mousse, cashews and brownie on a crisp wafer
Lemon cream tart, lime ganache and French meringue
Dark chocolate true
Verrine de mousseline au café, gelée à l'orange et chantilly à la vanille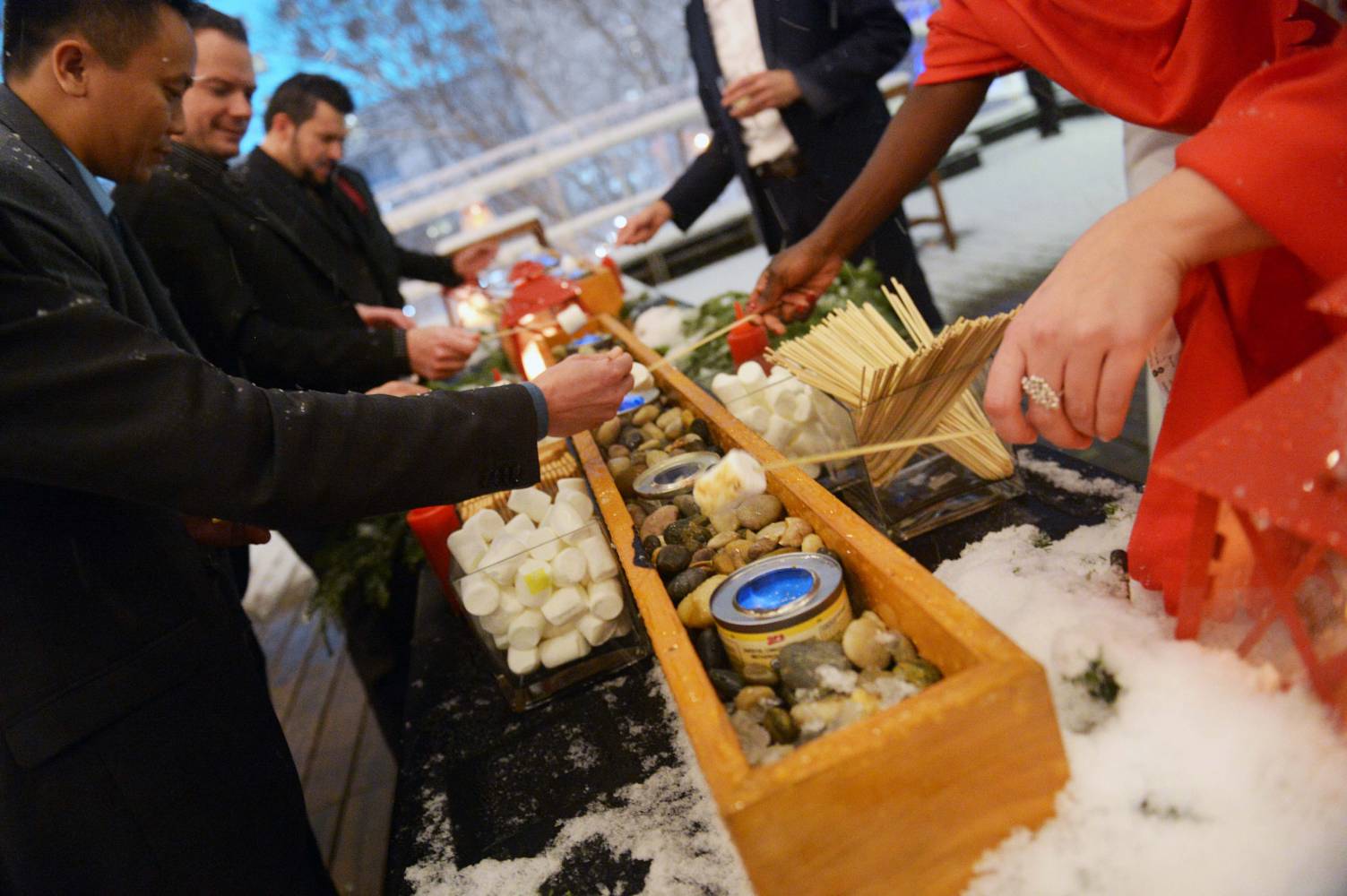 Culinary stations
In a interactive concept, the culinary stations are designed by our artistic director which ensures the uniqueness and the WOW effect!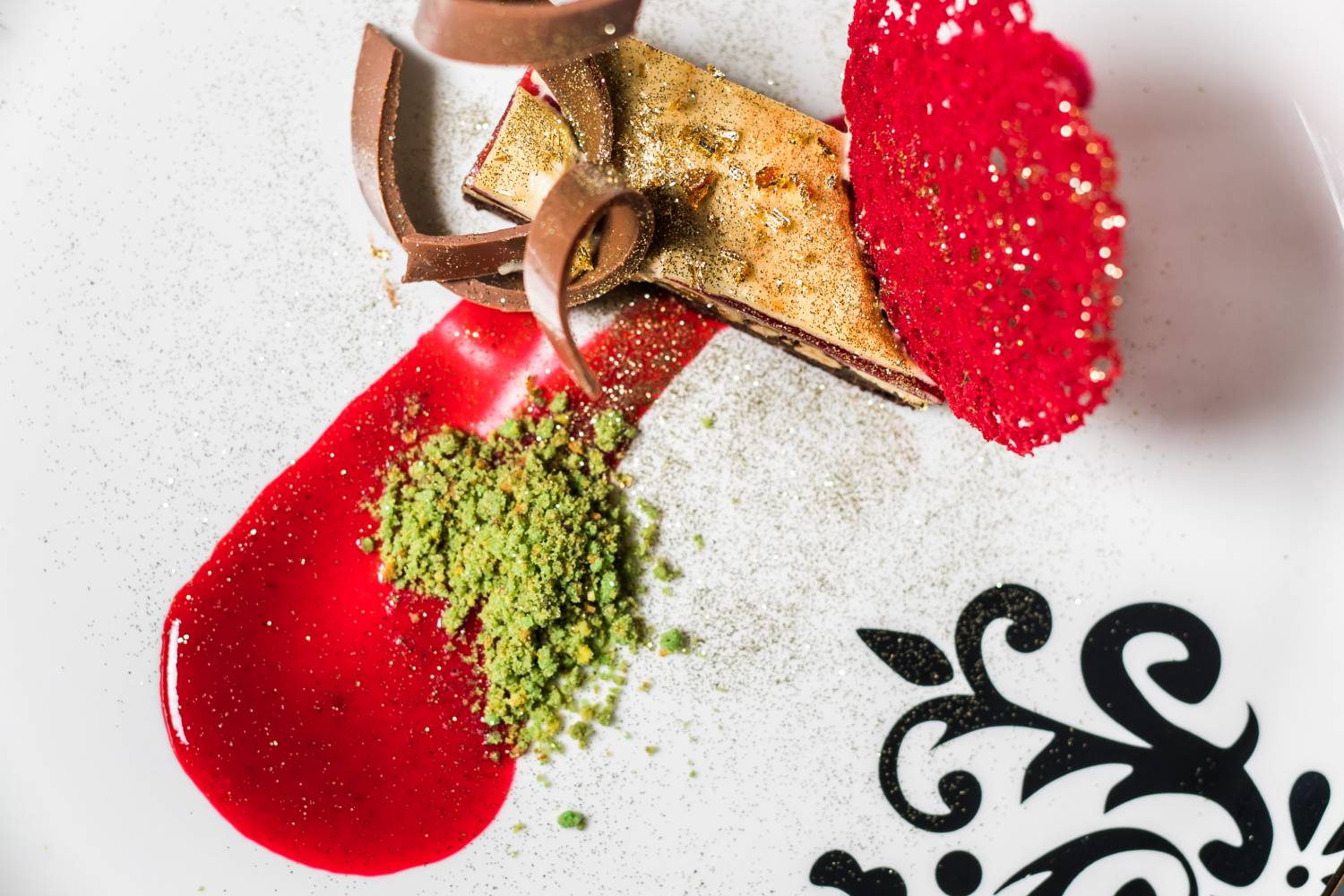 Seated dinners
Our chef's make sure to serve seasonal creations rich in flavors for your reception of 10 people or more.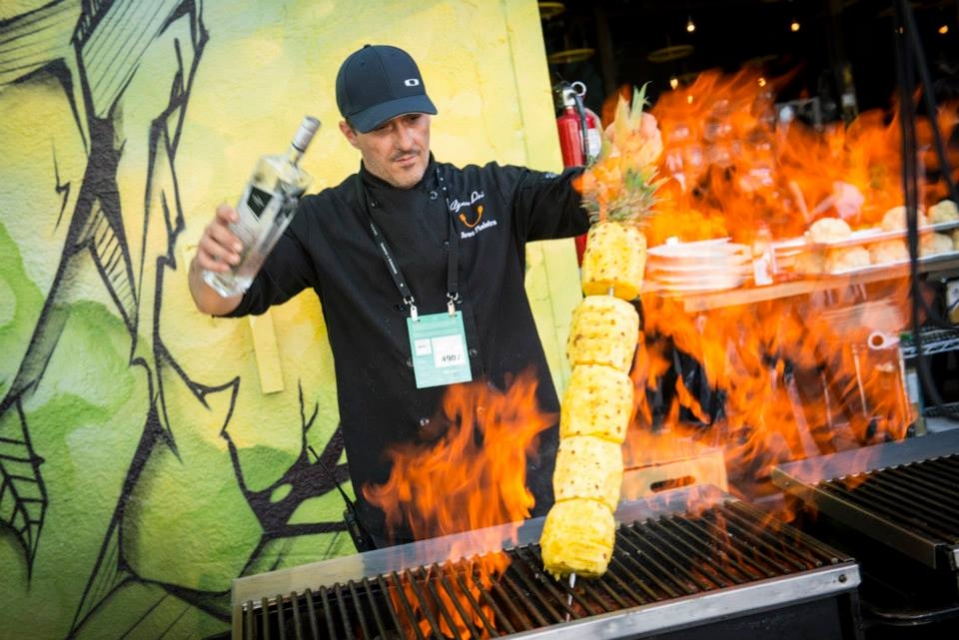 Our BBQ
Discover our BBQ and mechouis to enjoy summer with your guests!